Screen Printing, Tshirt Printing, Custom Shirt Printing, Silk Screen Printing, Embroidery
Screen printing services, custom tshirt printing, t-shirts, sweats, jerseys, golf shirts. Company Logos, Senior Class shirts, School Shirts, Events. Custom is our thing. If you need something screen printed we are your source. Low Minimums, Great Prices, Fast Service, High Quality.
---
We'll make it real simple.

Garment Catalog
Printing Prices
General Info
Top Sellers
How to Send Art
Art Dept.
Screen Print 101
Embroidery



School Gear
Class Shirts
Compressed Tshirts

Custom Printed
Team Sports
Pre-done Designs
Promotional Products, Promo Items
Custom Decorated Promotional Products, Promotional Items, Ad Specialty items, Trade Show Giveaways, Corporate Awards. Mouse Pads, Lapel Pins, Water Bottles, Refrigerator Magnets, Pens, Stress Balls, Temporary Tattoos many more!
---
Search from over 10,000 items online Click Here
Most Popular Promotional Products- Online Quotes/Buy


Temporary Tattoos
Coffee Mugs


Mouse Pads
Magnets
Water Bottles
Custom Stickers/Decals & Vinyl Graphics
Custom Stickers, Custom decals, labels, custom bumper stickers, roll labels, Auto Graphics, Vehicle Magnets, static cling stickers, vinyl stickers. If you need some type of custom stickers any shape, size or quantity we can help.
---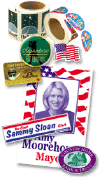 Custom Stickers
Void Labels
Bumper Stickers
Roll Labels
Auto Graphics
Static Cling
Boat Graphics
Vehicle Magnets
Customer Service
Contact Information
For assistance with any or our products please don't hesitate to contact us. One of our Sales Reps. would be happy to help you.
Local Phone- 949-753-1975
Toll Free- 800-859-1975
Fax- 949-753-4708
Hours: M-F 8am - 5pm PST
Email- info@socalscreenprinting.com